Hey penguins!
As you probably know, a lot of things have been getting leaked lately (Club Penguin needs better security :P). Along with some leaked files for the 10th Anniversary Party, are the names of music that will play in those rooms. I recognize some of them, but others I've never heard of. But either way, I'm going to use them to figure out which past parties had the music playing in those rooms, and hopefully figure out which rooms will be brought back! Be warned, there WILL be a lot of spoilers, so don't read this if you want the party to be a surprise. Let's dive in.
The Beach will have the music "Jungle Jangles" playing in it. This pretty much confirms that the winning design from July is the 2009 Adventure Party.
Same with the Cove, which will have the Temple of Fruit design.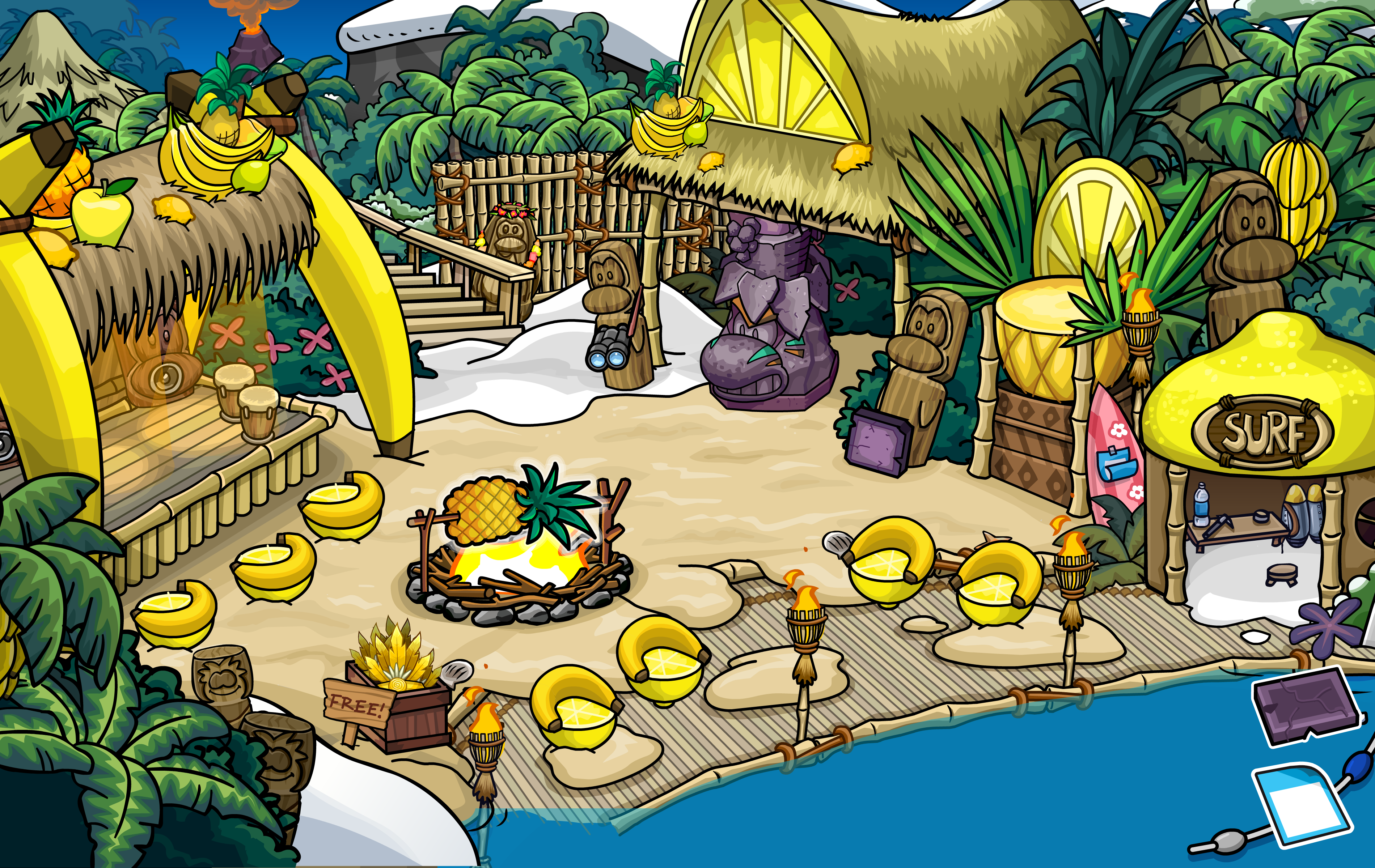 Now, this is one of the music track names I've never heard of in CP. It's called "GuadeLoupe Beach", which I looked up. Apparently, Guadeloupe is an island off the coast of France. So we can assume that the Dance Club will be decorated for something beach-related. Perhaps the Summer Party? If so, they're really going old school!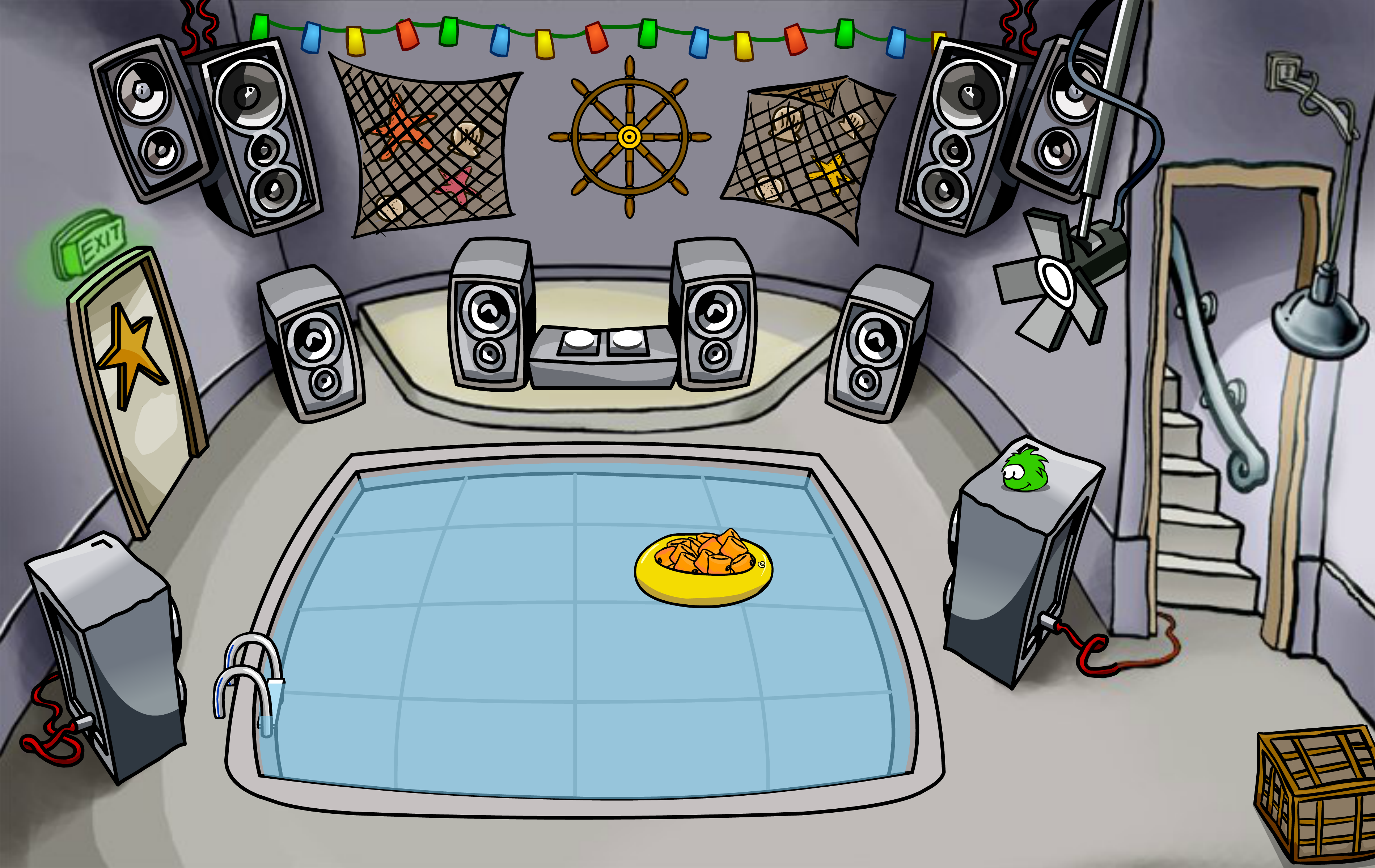 Other files leaked by Riyita's blog, Club Penguin Space, have confirmed that a room from Camp Penguin will be at this party. The Dock will have music called "Campy's Camp" (or something of the sorts) playing in it, according to the files above. Also, Rookie's description of the room he's talking about matches this one perfectly.
The Forest will have the music "Into the Jungle" playing in it. Other leaked files say that a room from the Island Adventure Party 2010 will be at this party. Also, Rockhopper's(?) description of the room he's talking about (also on CP Space) could easily match the one shown below.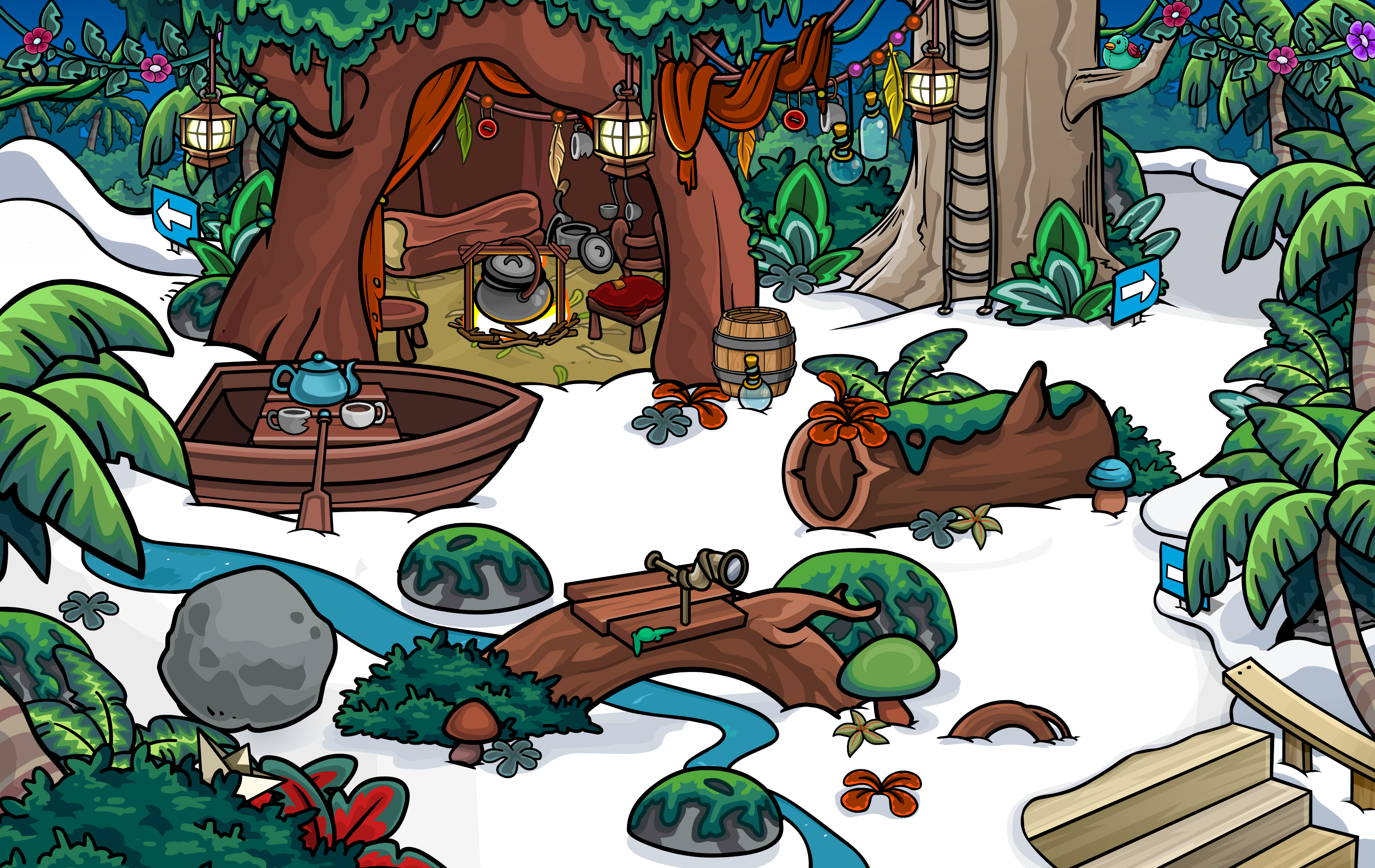 The Snow Forts will have the song "O-Berry Jazz" playing in it, which is the music that played in the Dance Club in Puffle Parties prior to 2013. Okay, I'll admit I'm kind of stumped on this one. I don't remember that song ever playing in the Forts, so I'm going to guess it's from a Puffle Party.
The Plaza will have the track "Island Adventure" playing in it during the party. A room from the Teen Beach Movie Summer Jam is said to make an appearance. Said music track played in the Plaza during the Summer Jam. I'd also assume that Club Penguin would want their choice of room for the Plaza to be fairly modern, as there are so many differences from the Plaza we have now and the pre-2013 Plaza.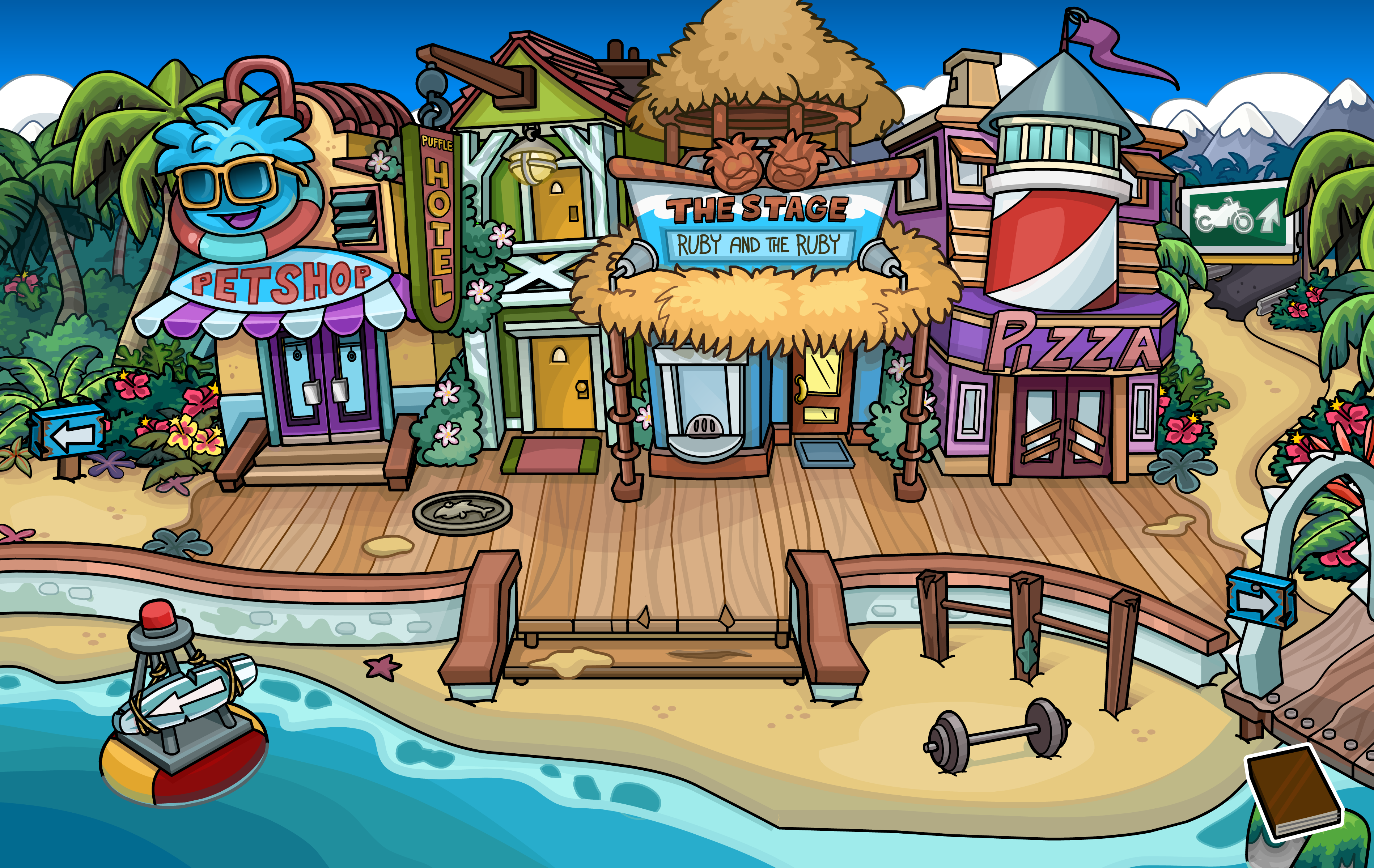 The Mine Shack will have the song "Puffle Ragtime" playing at it, which was the Puffle Party main theme in several Puffle Parties, including the 2012 and 2013 ones. Riyita's also confirmed (Thanks Riyita for providing so much info to back up my theories) that the Mine Shack will be decorated for Pi Day 2015.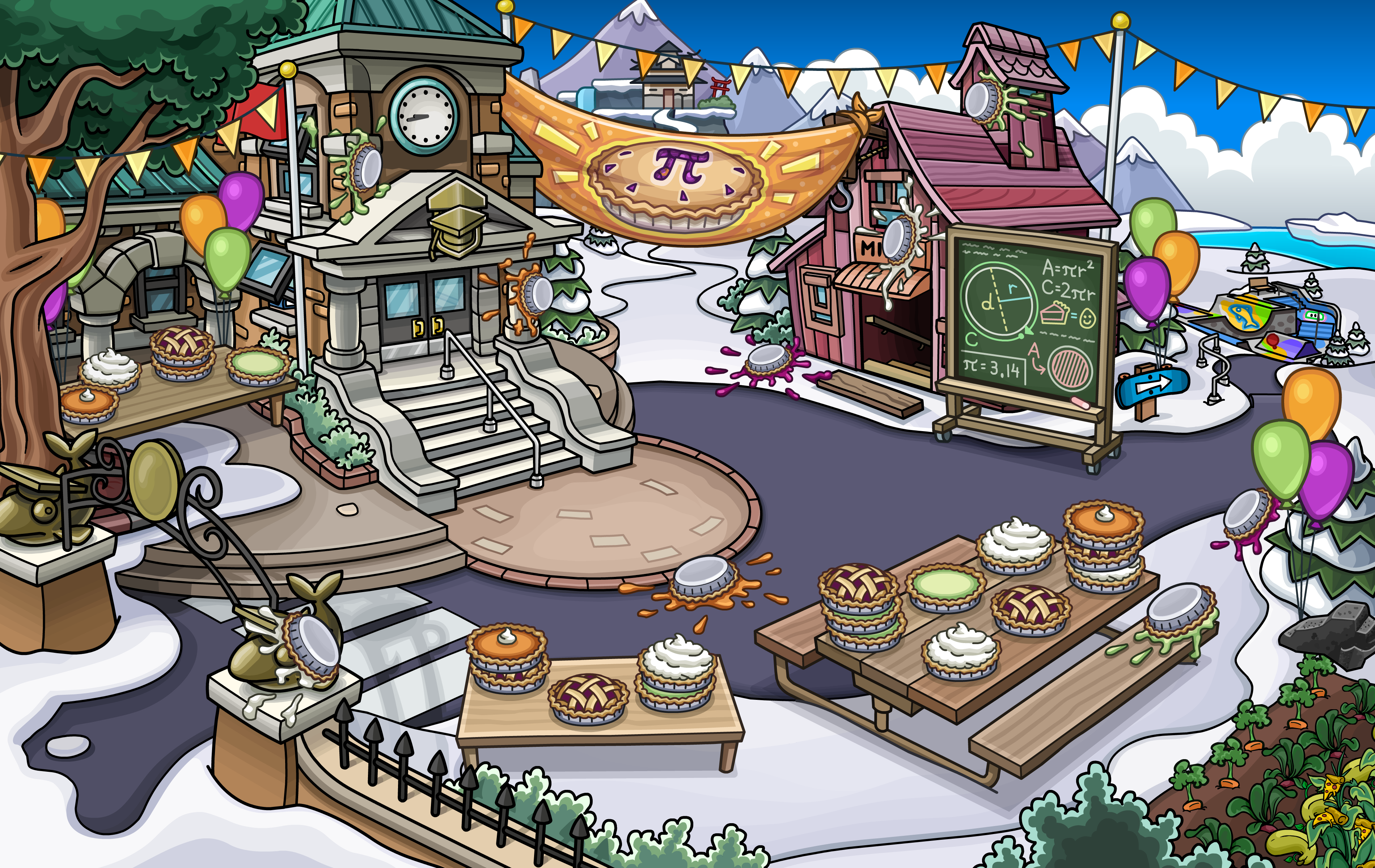 Finally, the Ski Village will have a song apparently titled "Fiestcha" playing in it, which sounds Mexican to me. I'm guessing that the Winter Fiesta 2009 design will return.
So, those are my theories for some of the rooms at the 10th Anniversary Party. Keep in mind that some of these might not be true at all, and there will probably be more rooms at the party (like the Pizza Parlor, for example, which will probably have its Submarine Party design, as shown below).
Do you have anything to add, or your own theories? Leave a comment!
UPDATE: Some more digging in files has confirmed some of the rooms at this party. The Beach, Cove, Snow Forts, Plaza and Mine Shack have all been confirmed to match my guesses, however the Ski Village design will NOT be from the Winter Fiesta, but from the Music Jam 2011! I knew I should've posted runner ups to the rooms I was unsure of, otherwise this would've been my second guess. 😛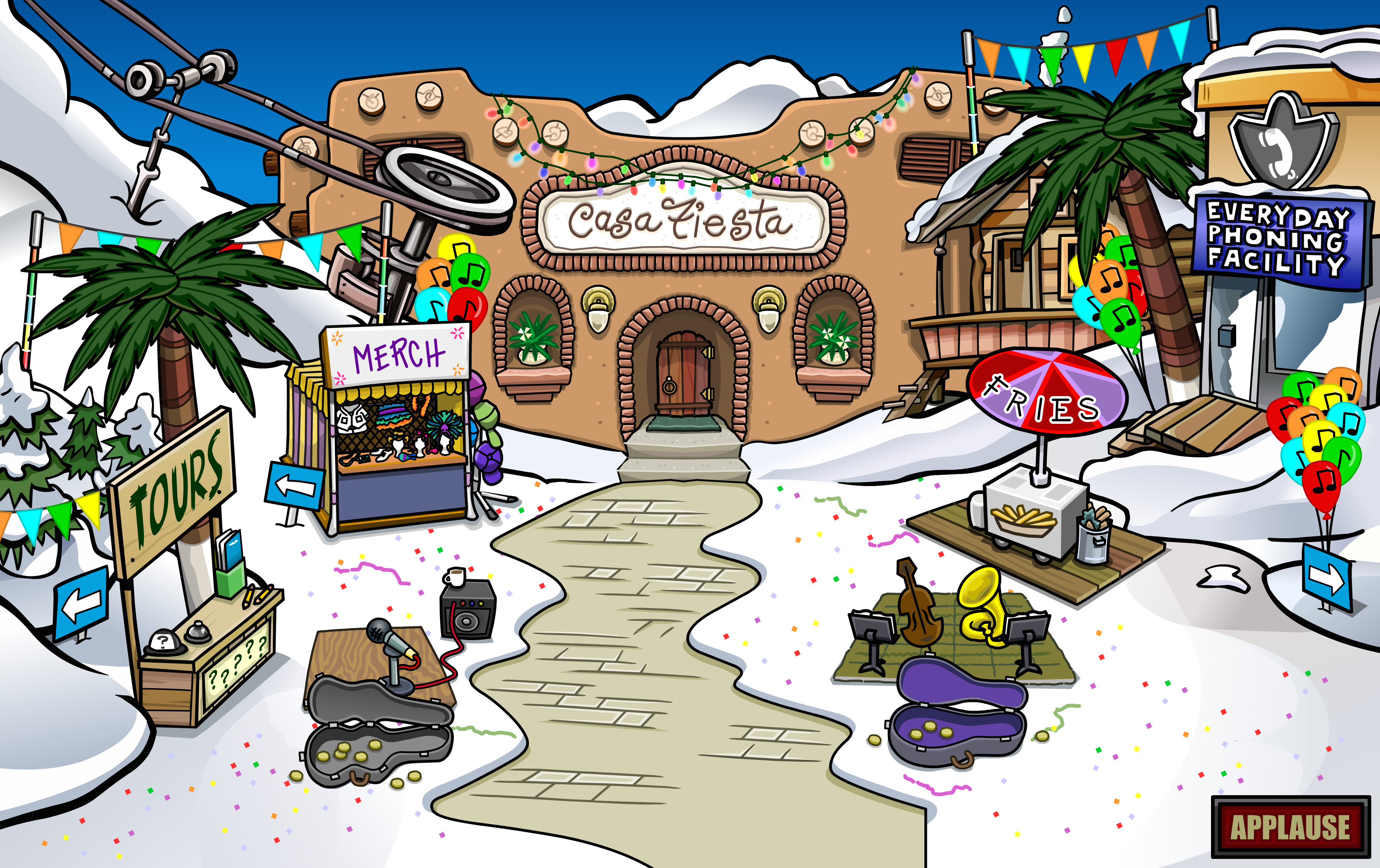 On another note, files suggest non-members might be able to adopt gold puffles at this party. Once again, this is NOT confirmed yet. I'm taking a wild guess here based off some more leaked files.
Either way, this is definitely going to be a party to remember!