To become a Tour Guide you must be 45 days old or older. It doesn't matter whether you are a member or not.  Once you are 45 days old you can waddle up to the Ski Village and visit the Club Penguin Tour Booth, which currently looks like this: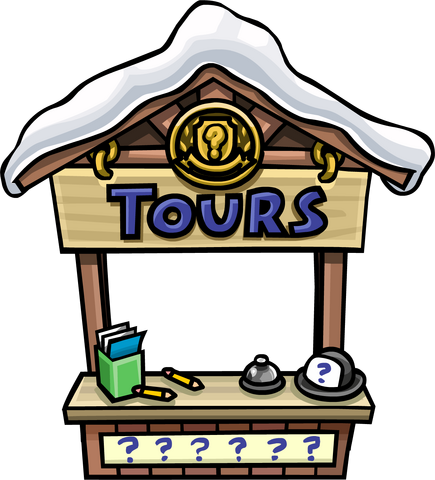 Once you have reached the booth, a message will appear onto your screen asking, "Are you ready to take the test?" Click Yes. You will now be taking the test to become a Club Penguin Tour Guide. Within the test, you will be asked various questions about Club Penguin. This little quiz makes sure you know your way around Club Penguin, and clerifies whether you will become a legitimate tour guide. If for any reasons you are struggling with the questions, below are the answers for all of the desired and given questions:
1. How does the pink puffle play?
Skips with skipping rope
2. What is the name of the big fish in ice fishing?
Mullet
3.  What day does the newspaper come out?
Thursday
4. Which of these games has a shark in it?
Jet Pack Adventure
5. What color of puffle can catch on fire?
Black
6.  How many coins does it cost to buy a player card background?
60
7. What is thrown out of the truck in level 4 of bean counters?
Flowerpot
8. In what room can you find old copies of the Penguin Times?
Boiler Room
9. What is the name of Captain Rockhopper's ship?
The Migrator
10. Which of these rooms does not have a game in it?
Beach
11. Which room has a cuckoo clock?
Ski Lodge
12. How do you get a pin?
Click on it
13. Which of these places doesn't have music playing in the background?
Pet Shop (it does now, but the quiz hasn't been updated)
After you finish the quiz you will be asked to receive the Tour Guide Hat, this means that you are now officially a Club Penguin Tour Guide. Once you obtain the hat item, you will recieve the Tour Guide manual. If you are ever having troubles, touring penguins around the island, simply refer back to that handbook. You are now ready to give tours to penguins around the island!
If you're wondering how various Club Penguin Tour Guides, speak so fast, and know exactly what to say, it's because they're using a special 'Tour Guide' chat feature, which can easily be accessed by hovering your mouse over the 'Safe Chat' icon, on your chat bar, then by hovering your mouse over the 'Activities' tab, and then by clicking on the 'Give a tour' tab.
To be able to say such phrases, you must have your tour guide hat on.
One 'bonus' or 'advantage' about becoming a Club Penguin Tour Guide, is the fact that you will get paid a monthly salary of 250 Club Penguin coins, even if you have not been giving tours to penguins around the island. Remember, if you are ever stuck with any 'facts', please do tell us in the comments, we'll try our best to answer!